Application for C2MW now online (5-10 minutes)
Have an idea? If you think this idea can benefit someone else, find a market, excite a potential customer, or fill a gap in existing offerings, then take the next step.  We'll pair you with talented students, faculty, and professionals to help realize this idea.  Apply to C2MW for an entrepreneurial idea here
Want to share your skills? We want to pair talented students, faculty, and professionals with folks that have a great idea already.  We need complementary skill sets from business, science, engineering, humanities, art, policy, law, health and education.  Tell us what you bring to a potential team by applying to C2MW  for your expertise here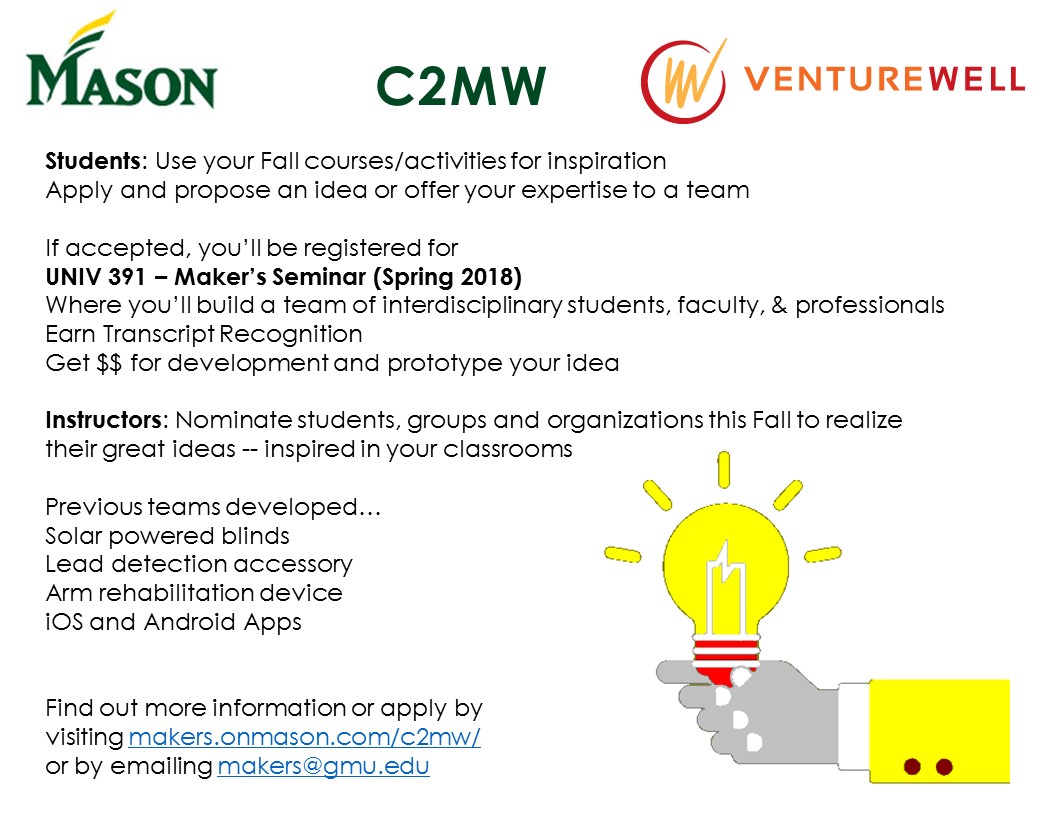 Classroom to Maker's Week (C2MW)
A Year-Long Journey from Idea to Implementation at Mason
Keywords: New Product Development, Entrepreneurship, Experiential Learning
A group of interdisciplinary faculty have been awarded a grant to encourage entrepreneurial actions by students across Mason. As such, we are trying to identify courses,activities, student organizations and students from any discipline where they are are generating ideas for a project that could potentially be prototyped or developed towards a commercial product.
At the end of the semester, instructors will nominate student projects from these courses to participate in a program entitled Classroom to Maker's Week (C2MW): A Year-Long Journey from Idea to Implementation at Mason.  This is meant to encourage students, who otherwise may leave the project incomplete at semester's end, to attempt to develop their idea into a commercializable product over the following semester.
Other students and organizations can apply directly to the program.
Students will receive expert assistance, be eligible for microgrants to fund development, receive materials and supplies, and gain access to specialized equipment to realize their idea.
 There are many opportunities that can be pursued during and after the C2MW including, but not limited to, participation in Mason Innovation Lab, LITE, and Center for Social Entrepreneurship programs; preparation for the Business plan competition, PitchIT, or external entrepreneurship competitions; and technical assistance for "social innovation" focused projects, senior design projects, sponsored design competitions, and extra curricular organizations and activities
To opt in to C2MW, please email  makers@gmu.edu or contact any of the faculty members listed
Massimiliano Albanese malbanes@gmu.edu Co-director of the Laboratory for IT Entrepreneurship (LITE)
Mihai Boicu mboicu@gmu.edu Co-director of the Laboratory for IT Entrepreneurship (LITE)
Mahesh Joshi mpjoshi@gmu.edu Director Research & Practice Center for Innovation and Entrepreneurship
Viviana Maggioni vmaggion@gmu.edu Assistant Prof. Environmental and Water Resources Engineering
Nathalia Peixoto npeixoto@gmu.edu Associate Prof., Electrical and Computer Engineering Department
Colin J Reagle creagle@gmu.edu Assistant Professor Mechanical Engineering Department
Daniel M Sklarew dsklarew@gmu.edu , Associate Professor, Environmental Science and Policy